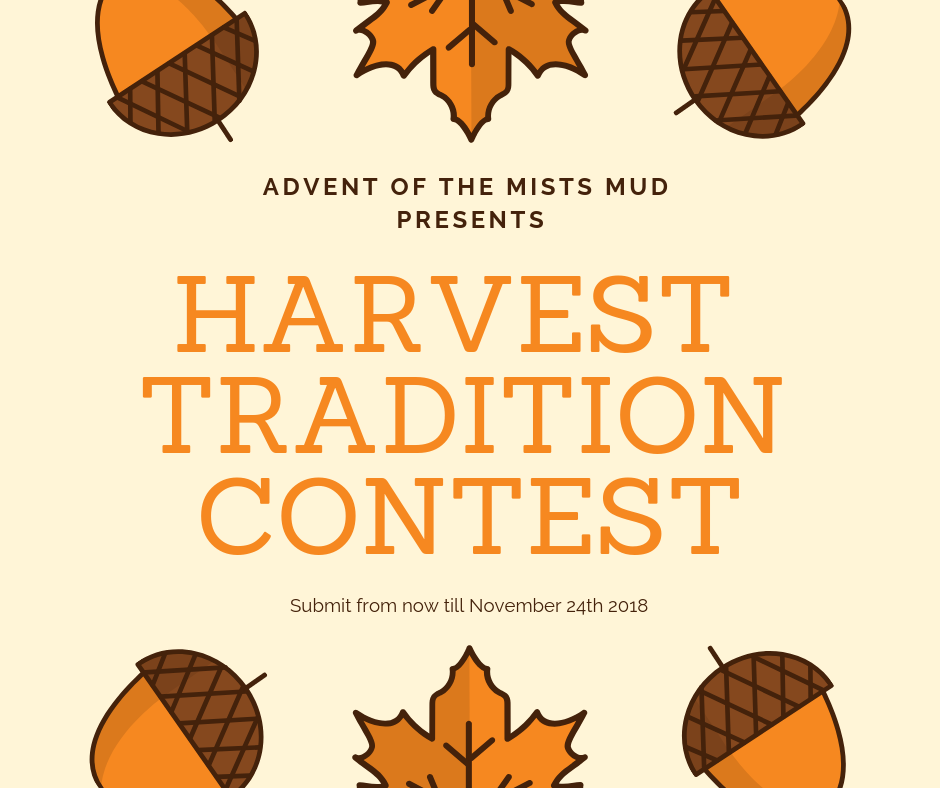 Man, I must like contests 🙂 Honestly a lot of these contests help us create ways for players like you to contribute both thematically and systematically to the game. We're always looking for stories, songs, spell ideas, etc., and this is the perfect way for us to pick your brains and reward you for your contribution.
So in the interest of celebrating the American Thanksgiving (though Canadian Thanksgiving is fairly close), I'm having a Fall Harvest Tradition Contest.
WTF is that? I'm so glad you asked..
Many historical cultures have traditions, whether they are religious or simply seasonal, that they use to celebrate something as a community.
For example: In Irish Celtic Lore, there's the story of the Goddess Tailtue who sacrificed herself for her people who were at war. Her step-son, the God Lugh, created the "Taltean Games" in her honor which always happened during the month of August. Think of it as like an Olympics in Irish Lore. That is a religious cultural tradition.
Also in Irish Celtic Lore is the tradition of Beltane, where they celebrate the fertility of the land and also drive their cattle between two large bonfires to "cleanse" them for the coming season. This is a religious cultural tradition.
If you look up a lot of Pagan holidays, you'll see a lot of inspiration for these types of festivals. Even outside of Pagan theocracy, you can look at Christian traditions such as Christmas, May Day, Candlemas and see what influenced these traditions, holidays, and such and turn them into something we can use for Advent.
Now your entries don't have to be religious.
The goal is to take a piece of history or lore that you know of from Advent, and turn it into a racial, territorial, or religious tradition. Have an idea of something the Elves would celebrate each year? Write it out into a detailed tradition for the contest 🙂 Think the Orcs would ceremonially honor something like a rite of passage within the Clans at a certain age? Write it out into a tradition for the contest. Should Thelasia have a yearly festival involving the Ships and Sailors that trade in and out of the harbor (example of a non-religious cultural tradition)?
The possibilities are endless. But this is a good time to create something that will become a permanent significance to the game.
Prize for the winners?
The best tradition submission will be chosen by the staff and will receive an award of 5RPP, 50 gold, and 500 passive points to up their skills. This tradition will then be used within the game for that particular culture or religion.
Rules of Engagement:
Your tradition should be outlined in as much detail as possible. When it would take place, who and where it is celebrated, how it started and when (is it old? new?), and of course how it is celebrated. Are there certain things that are done or ways places are decorated? Think of how we celebrate christmas, all the little details and thoughts that go into the decorations, the parties, the meals, the presents, how they relate to the birth of Christ, etc.
Your tradition should somehow relate to the fall harvest or fall/autumn in general.
Tradition will be submitted through a special form on the website
Traditions can be submitted from now until November 24th at 11:59pm EST.
Even traditions that did not win may be incorporated into the game. You are welcome to include names of a character you'd like associated with starting this tradition as it may be incorporated as game lore history.
As always, if there are any questions, feel free to send a note to IMM in game, or send a message via the contact form. You can send us a tell in game as well, but we may miss those occasionally.