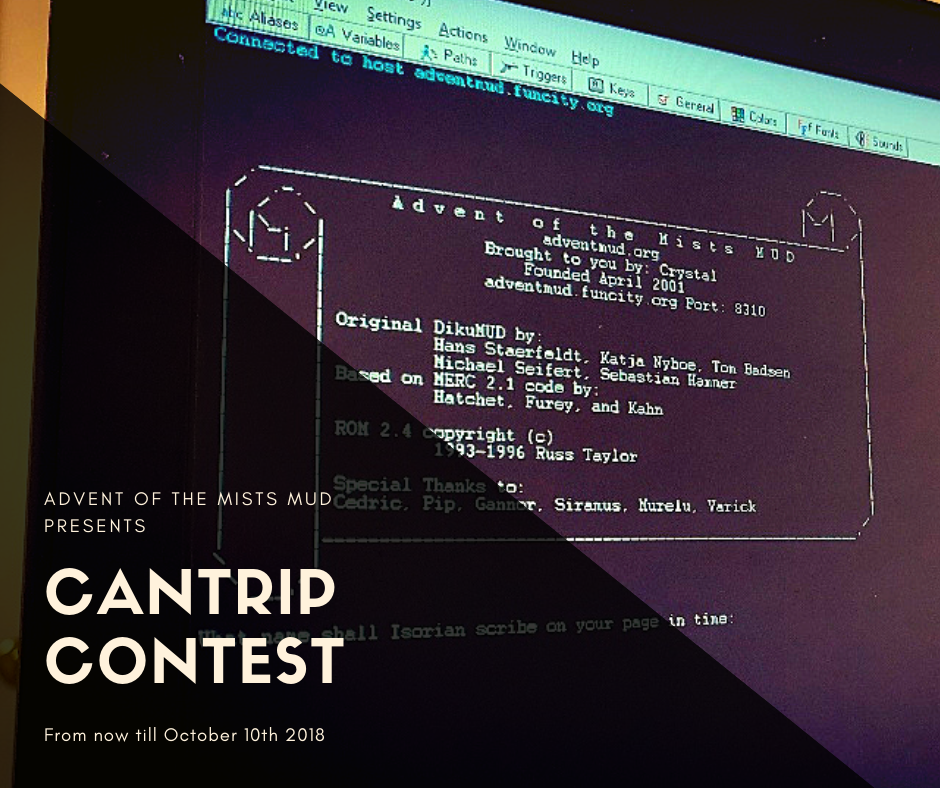 Things on the MUD are moving! We had our first MUD wedding EVER in-game, which had a nice turn-out and a great fun RP session all-around. We've made some code updates as Adalon has been promoted to a full-time coder for the MUD. Keep an eye on the website and HELP UPDATES for all new code developments.
The forum is active with activity on ideas and thoughts moving forward. And of course, we have a DISCORD server which you can see on the website sidebar. The chats here are extremely active, so feel free to hop in at any time.
For our next contest, we're looking to increase our cantrip list, so players now get the opportunity to submit cantrip ideas for the game 🙂
Prize for the winners?
The best story will be chosen by the staff and will receive an award of 5RPP, 50 gold, and 500 passive points to up their skills. Each player who submits a cantrip idea will also have their cantrip hard-coded into the game (1 cantrip each). They can choose to share this or use it as their own personal special cantrip 🙂
Rules of Engagement:
Submit up to 10 cantrip ideas, but only one will be coded in so be sure to choose which you'd like to have coded. If we really like the others though, they may be coded anyway 😀
Cantrip will be submitted through a special form on the website
Keep in mind that cantrips are small fun spells. They can do minor damage or create minor items, but are not replacements for large spell schools.
Cantrips can be submitted from now till October 10th. Winners will be announced in mid-October.
As always, if there are any questions, feel free to send a note to IMM in game, or send a message via the contact form. You can send us a tell in game as well, but we may miss those occasionally.